The Harbour House PEI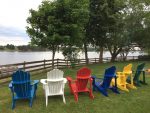 Our 5 star PEI Tourism-licensed beach-house has been remodeled with updated furniture and decor and is an unforgettable oasis. Let's call it pure seaside sophistication. The Harbour House PEI is a short-term vacation rental, booking Sunday to Sunday. Visit www.cottagesincanada.com/theharbourhousepei for more information.
Come relax in this gorgeous four season, 1300 square foot beach-front house, located on a grassed half-acre on a calm water harbour (safer for children) in the picturesque Village of Murray Harbour in Eastern Prince Edward Island. Enjoy breathtaking views of the sun setting across the harbour from the comfort of one of two patios or the enclosed sun-room, as you watch the boats come and go. Our 165 foot accessible beach is all yours to enjoy. At low tide, the beach also continues on and around the harbour and past the point so you can enjoy long walks, exploring and swimming. Or, you could enjoy a free public beach 5 minutes away (Beach Point). The large fenced-in yard provides lots of room to enjoy bonfires, BBQs, games and much more! Restaurants, general store/liquor outlet are within a five-minute walk from beach-house.
The beach-house includes:
– WiFi, landline phone and satellite TV
– 3 bedrooms, sleeps 4 adults and 3 children/teens comfortably in bunk-beds (maximum capacity – 8)
– 1 large 4-piece bathroom
– additional peek-a-boo outdoor shower
– new mattresses in all bedrooms
– Hunter ceiling fans and upright portable air conditioner
– stainless steel kitchen appliances including dishwasher
– fully equipped kitchen
– washer/dryer (iron and board included)
– bicycles
– 2 kayaks ($200.00 must be reserved prior to arrival)
– BBQ with large patio table and sunbrella
– patio furniture/Muskoka chairs
– bonfire pit
– beach towels, cooler and camping chairs
– umbrellas
– high chair and Pack'n Play Playpen for babies to sleep etc.
– and much, much more!
This can be all yours to enjoy for a week or more!