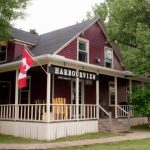 Business Description
We are a local seasonal seafood restaurant situated beside Murray Harbour Wharf. Sisters Dawn and Darlene invite you to come in and enjoy our award winning seafood chowder, delicious fish and chips and scrumptious homemade desserts.
Business Address
7 Mariners Lane, Murray Harbour, PE
C0A 1V0
Business Description
Open 7 days a week for breakfast, lunch and dinner.
Enjoy waterfront views, heated pool, kayak rentals and delicious meals in ONE GREAT PLACE.
See our menu at oceanacres.ca
Business Address
247 Fox River Rd.
Murray Harbour
C0A 1V0